Kocoon's Immune Boosting Tea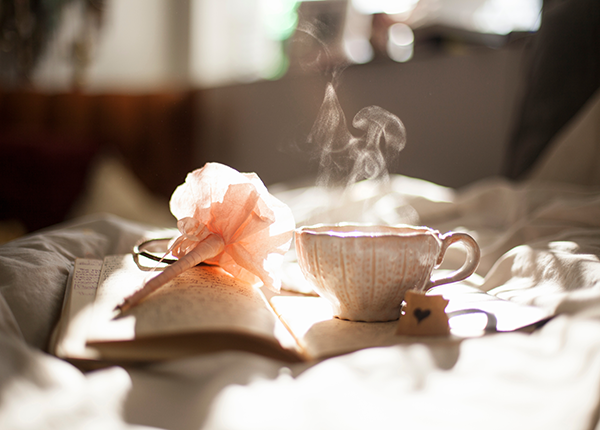 Whenever I feel sick, or no strength to get out of bed, I will still pull myself to the kitchen just to make this pick-me -up ginger and lemon tea and drink it all day long.
On the 2nd day I would already feel better and more energized. Due to it's detoxifying properties, it's also a great hangover relief tea!
You will need:
Ginger: As much as you like, the more you add, the more heat. Minced is better but on a sick day, I just have energy to cut thin slices, which works fine.
2-3 cinnamon bark
2 Table spoon of goji berries
1 organic lemon cut in thick wedges or orange wedges 
2 Table spoon of raw honey
3-5 cloves
Simmer everything until your room smells cinnamon, with just half of the lemon including the lemon peel.
When you drink it, add the juice of the other half of the lemon. In the evening, for a deep slumber, I will add a splash of whiskey to the hot mixture. It's delicious!
*Pregnant women should avoid excessive amounts of cinnamon.
Health Benefits of;
Ginger: Ginger induces sweating, a process through which your body releases dermcidin, which "limit infection by potential pathogens in the first few hours following bacterial colonization," Birgit Schittek in "Nature Immunology." Ginger is know for its anti-inflammatory and antibacterial properties and aids in healthy cellular activity in the gastrointestinal tract.
Lemon: Lemon juice contains high levels of potassium and vitamin C. A strong antioxidant, lemon juice is also a mild diuretic, so adding lemons to your drinking water can help support your liver and kidneys in their natural job of flushing out toxins.
Goji Berries: Well known ingre­di­ent in Chi­nese cui­sine, is very often used in Chi­nese med­ical dietol­ogy, because of its influ­ence on liver, lungs and kidney. I try to add them in soups as well, such as the Pumpkin soup in winter.
Cinnamon: Antibacterial and antifungal properties. It's also believed to improve energy, vitality, and circulation and be particularly useful for people who tend to feel hot in their upper body but have cold feet.
Cloves: Used often in Ayurvedic medicine, cloves are anti-fungal, antibacterial, antiseptic and analgesic. They're packed with antioxidants and are good sources of minerals (especially manganese), omega-3 fatty acids, fiber and vitamins.
Honey: It's antioxidant and anti-bacterial properties can help improve digestive system and help you stay healthy and fight disease. If you want to learn more about natural food that will help you burn fat and other health related recommendations, check out this site: http://healthunify.com/12-natural-foods-that-burn-fat
Maika Endo