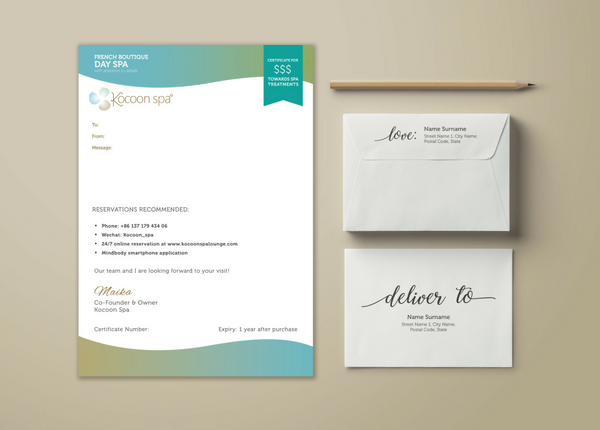 Kocoon Spa e-Gift Certificates
Do you have someone special in Beijing that you'd like to treat for a nice spa experience? 
You knocked at the right door!
Awarded best spa in Beijing for the past 3 consecutive years, Kocoon Spa is a French-owned boutique spa with attention to details. 
Born from the shared passion for wellness by a mother-daughter duo of self-confessed spa junkies, Kocoon Spa is a retreat in the middle of Beijing's hustle and bustle. 
We offer Phytomer skincare treatments (The Deep Seawater Moisturizing Facial is a must in Beijing), aromatherapy massages, body care, waxing, and nail care. 
We also have Spa Packages so you can sample several treatments and be pampered from top to toe!
There are the  way to purchase your gift certificate:
Have the elegantly designed gift certificate delivered to you in Beijing. 
If you have any questions, drop us an email! Our Spa Advisor is always here to assist you during our business hours. 
Maika Endo