DIY Website Workshop at Kocoon Spa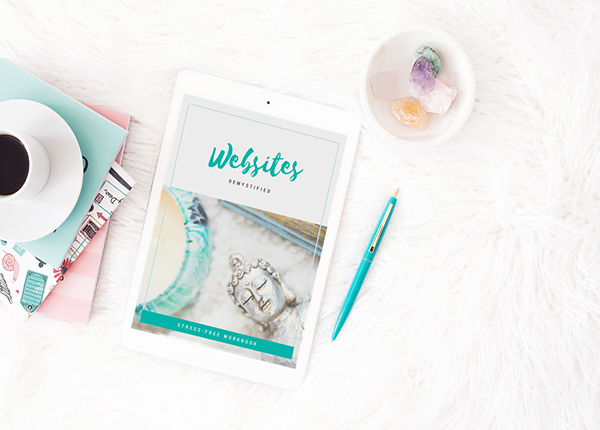 DIY Website Workshop at Kocoon Spa 
DOES THIS SOUND LIKE YOU? 
You've always intended to create your website and in front of your screen, you found yourself paralyzed with the questions "Where to start?" "What to put in there?"
You have been researching website builders and you are not sure which one is the most suitable to align with your business needs.
Your website was build by a web designer, but you are wondering whether it has everything it needs to support your business success.
You feel overwhelmed by all the technology jargon and you are not sure what do you need to know to make an optimal website and avoid beginners' mistakes.
PROGRAM
WORKSHOP 1: WEBSITES DEMYSTIFIED
Tuesday, July 25, 6:30PM-8:30PM
380RMB | person
1000RMB if you sign-up for Workshop 1 and 2
In this workshop you'll learn: 
How to avoid beginners' mistakes and how to gear your website to attract your ideal clients. 
What are the important pages you need to include.
How to create your "About" and your brand promise. 
An introduction about the different website builders, and my personal recommendations. 
You'll get:
Your personal workbook to walk you through the steps and prepare everything you need to start your website.
A resource list where I'll show you my favorite tools for your work organization and building your website. 
An editable email script to ask for testimonials like a pro and save time.
WORKSHOP 2: TECH TUTORIAL / BUILD YOUR WEBSITE AND BEYOND
Thursday, July 27, 6:30PM-9:30PM
800RMB | person
1000RMB if you sign-up for Workshop 1 and 2
Workshop curriculum:
In this workshop, I will walk you through all the steps of creating your website with Shopify, 
from creating your account to finally launching your masterpiece with ease and confidence.   
Bonus: Depending on time remaining, you'll also learn a few website tricks to make your website interactive such as how to set up a pop-up robot chat room (below), or the message bar you see at the top of our spa's website saying:" Have you ever tried our quick, hygienic, and expert waxing service for men and women? Enjoy 20% off!"
For those who didn't take workshop 1: Workshop 2 requires that your material is ready (text content and photos and everything you want to include in your site). 
MONDAY JULY 24th
DAY TIME WORKSHOP 1 & 2 
10:00AM-4:00PM, with 1 hour break at 12:00
1000RMB | person
BOOKINGS:
To ensure the quality of the workshop, the event is capped to 8 participants. 
You can reserve your seat now, by messaging Kocoon's Wechat: Kocoon_spa and sending a 30% cancellation deposit. 
Payments are accepted by WeChat or cash. 
The workshop will take place in Kocoon's peaceful setting, with unlimited herbal teas, spa water, nibbles. For the evening session, I'll bring a bottle of wine! :)
THIS WORKSHOP IS FOR YOU IF
You are seriously considering setting up your website and you are ready to commit to the work.
You are a total beginner and you are looking for a good strategy and guidance to complete your mission with peace of mind and clarity.
You want to play around and perhaps explore something new for your website. 
You are an entrepreneur or entrepreneur in the making. 
If you are in beauty, fashion, healing art, health and wellness industry. 
THIS WORKSHOP IS NOT FOR YOU IF
You want to continue procrastinating on your website and delay it another year. 
You want to outsource this and hire a web designer. 
You want to set up a sophisticated e-commerce shop with drop shipping. 
YOUR HOST
Hi! I'm Maika, multilingual entrepreneur, harp therapist in the making, and co-founder of Kocoon Spa. 
I listen to marketing podcasts during my shower, read business literature when I wake up. I have always been obsessed with workshops, to a point where I see everything as "workshop-able".
There are tools and methods to simplify complicated things, making them immediately actionable, always with playfulness and ease in mind. This approach also applies to business and marketing. It can be an intimidating and overwhelming world and my goal is to spare you the pain and cost of the learning curve. You can learn how to build your own website for less than the price of a web designer and in less time than the time you would need to brief someone and follow-up the work. It's a system you will learn for life and you will be able to repeat this as many times as you want!
If I can do it, then you can do it for sure! I'm no website expert. Just a step ahead of the beginner. Let's workshop this! 
If you have any questions, feel free to write to me here. 
I'll also be launching online courses for health & wellness professional in September, stay tuned!
Maika Endo