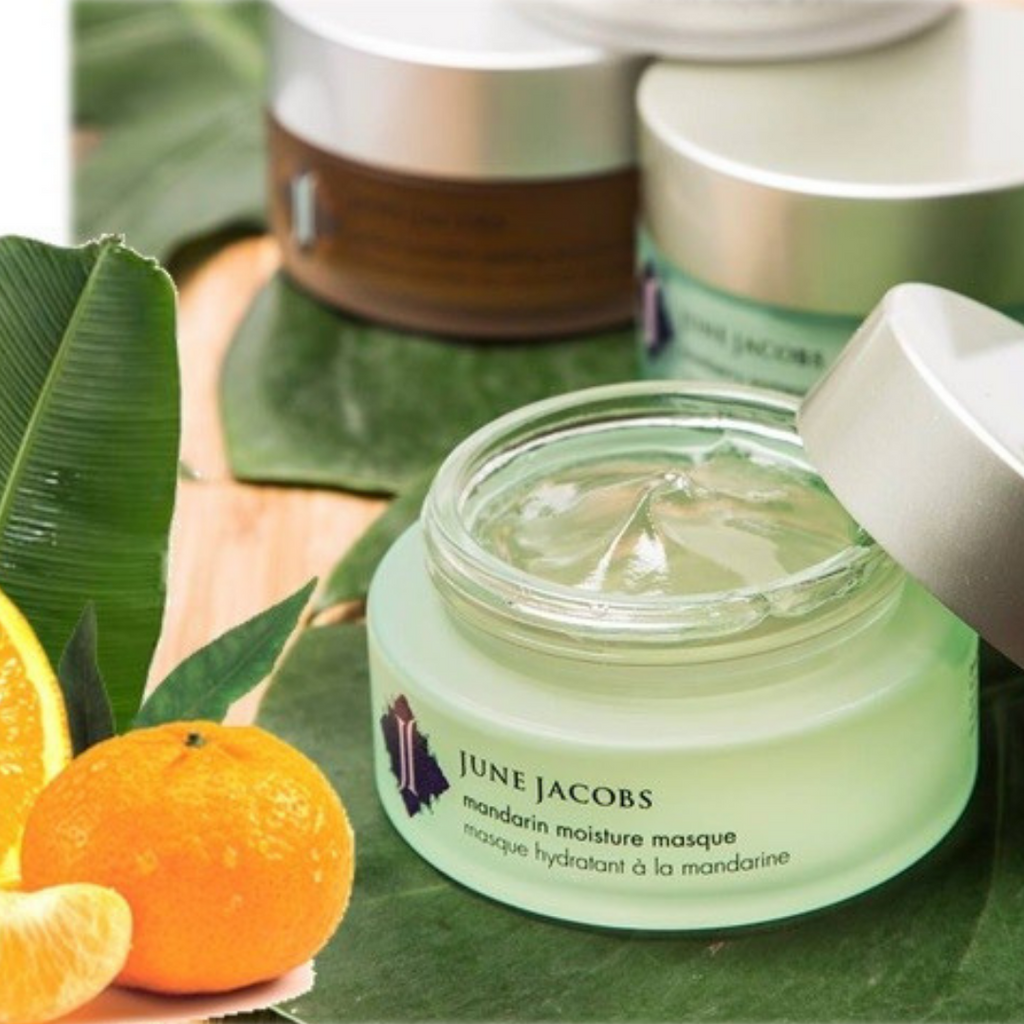 The Mandarin Moisture Masque
We could no longer import our organic aloe vera for our Soothing Facial, but we found an alternative and we hope you love it as much as we do! We're thinking to add the entire facial using June Jacobs line, so let us know if you like that idea!
June Jacobs Mandarin Moisture Masque infuses the skin with moisture, protective antioxidants, and rejuvenating vitamins, all while stimulating the senses with a delicious, citrus aroma.

ABOUT JUNE JACOBS MANDARIN MOISTURE MASQUE
Paraben and preservative free, this refreshing moisture gel masque imparts a bouquet of fresh mandarin oranges to awaken the senses. Algae extract and hyaluronic acid act as humectants, retaining moisture in the skin, revealing an improved tone and texture without adding excess oils. 
Key Ingredients and Benefits
Powerful patented anti-oxidant blend of white, red and green tea extracts combined with goji berry, pomegranate and grape seed extracts help to neutralize free radicals, protect skin from environmental toxins and combat the visible signs of premature aging.


Benefits
Showers the skin with moisture and boosts its ability to retain it
Boosts the natural healing process
Re-texturizes the skin for a smooth, soft surface
Prevents premature aging
Natural ingredients for natural beauty
Ingredients
Mandarin Orange Extract - soothes inflammation, kills bacterial, and provides antioxidant protection; reduces the skin's natural inflammatory response by increasing circulation and increasing collagen level with vitamin C
Vitamin C - protective antioxidant that brightens the skin, provides precursors for elastic fiber construction, and boost the health of the skin
Algae extract - increases the skin's ability to retain moisture for improved health; increases circulation for better skin elasticity
Hyaluronic acid - rich moisturizer that penetrates the skin with hydration to all layers
Ginkgo Biloba Extract - increases dermal/epidermal blood flow for improved healing, healthier skin, and improved cell function
Ginger root extract - soothes inflammation
Allantoin - improves the skin's natural desquamation and regeneration process for a healthier complexion with less problems; reduces trans-epidermal water loss and helps heal damaged skin
PROMOTION IN SEPTEMBER:
Refreshing Mandarin Facial
Hand Mini-Facial
75 min. of treatment followed by Kocoon Tea Ritual, 520rmb 
Promotion code: Backtoschool2018 - until end of September
 Wanna book your Refreshing Mandarin Mask Facial? Click here!